Bio Data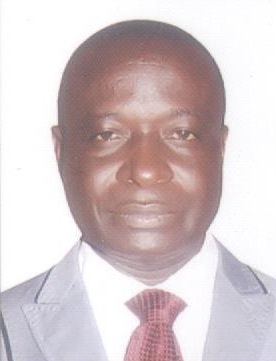 Dr Moses Ode Odugbo,
BSc. MSc. PhD. (Microbiology: ABU, Zaria, Nigeria).
Director Production, NVRI, Vom. Email: modugbo@yahoo.com
Dr Odugbo hails from Akpa-Otobi in Otukpo Local Government Area of Benue State of Nigeria. A microbiology graduate of Ahmadu Bello University (ABU, 1979), Zaria Nigeria, Odugbo holds master's (1985) and doctoral (2000) degrees in Medical-Veterinary Microbiology from ABU, Zaria, Nigeria. Under the aegis of FAO/IAEA, he undertook a pre-doctoral fellowship on techniques in molecular biology at Moredun Research Institute Edinburgh, Scotland in 1999. He has also undergone several short-term management courses to improve his professional and administrative skills.
He joined the National Veterinary Research Institute (NVRI) Vom as a Research Officer in 1980, and rose through the ranks to the present position of Director, Vaccine Production. His current and prior professional appointments in NVRI, Vom include: Director Production department (2016 – date); Head of Bacterial Vaccine production division (2011-2015) and Head of Bacterial Research division (2008-2011).  His additional career appointments and honours include sabbatical and visiting appointments in Nigerian universities; supervision and mentoring of both undergraduate and postgraduate university students; external examiner to tertiary institutions.
He has served as ad hoc reviewer for Nigerian Journal of Microbiology, Nigerian Veterinary Journal, The Vom Journal of Veterinary Science, Nigerian Livestock farmer, Journal of Food Agriculture & Environment and Tropical Journal of Agricultural Research. He has also held editorial board appointments with The Vom Journal of Veterinary Science, Nigerian Livestock farmer, and Journal of Food Agriculture & Environment.
Aside being a member of the Institute Management Committee, his extensive service to NVRI has included terms as chair or member of various committees such as: Seminar & Publication; Housing, Works & Environmental; Training; Procurement planning; Tenders board; Senior staff Appointments promotion & Disciplinary; Staff Welfare; Design of the State-of-the- Art Research Laboratory; Animal Use & Care; Water & Utility; ICT;  Staff Auditing, Establishing a Vaccine Co., to mention a few.
He is the author or co-author of more than 45 scientific publications in peer-reviewed journals and has presented scientific conference papers locally and internationally. He is a member of the Nigerian Society for Microbiology (NSM), Nigerian Society for Biotechnology (BSN), and Nigerian Society for Immnunolgy (NSI). He is also affiliated with the following societies: Federation of African Immunological Societies (FAIS), American Association of Immunologists (AAI), International Union of Immunological Societies (IUIS) and Microbiology Society (Europe).
He is an honoree/recipient of the NVRI Senior Staff Production Merit Award (1999) in recognition of his standing as a distinguished researcher and continuing achievements in vaccine production. He has also been an awardee of IAEA, and AAI Travel grants.
His current areas of research interest include innovative vaccines, tropical and neglected infectious diseases of man and animals. His community services include serving at various levels to promote church activities, community policing, and local friendship forums.
He is married with 2 children.